Welcome
---
2004 AWRCS Results
2004 AWRCS Points
2003 AWRCS Archives
Schedule
Track Directions
Entry Fees
On-Site Camping
---
---
Special
Bulletins
TMC PRO-STATS continues its Sponsorship of the American Woods Racing Championship Series in 2004!
---
Contact TMC
Contact AWRCS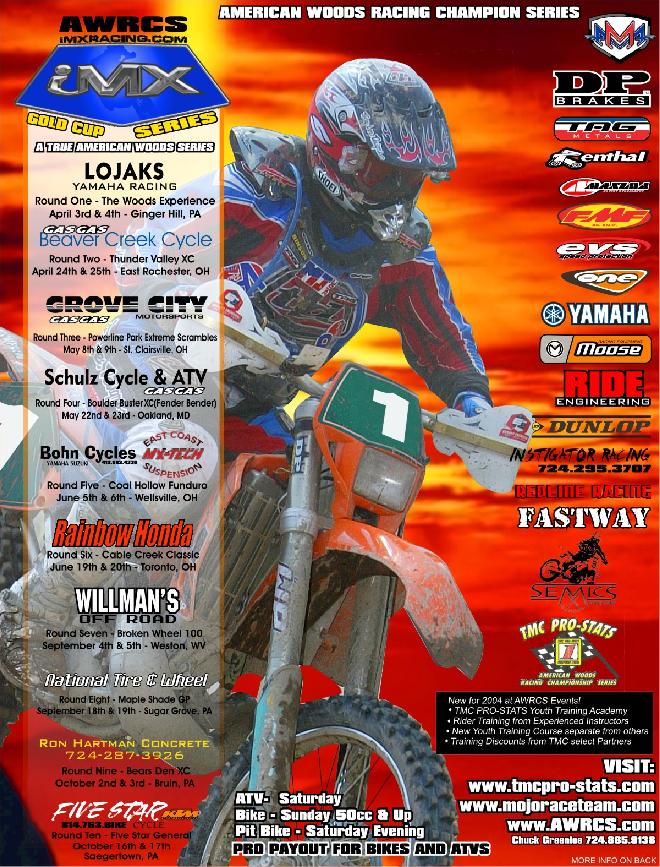 American Woods Racing Championship Series. A True American Woods Series!
Challenging due to tight courses...Unique due to use of transponders.
No need to stop at checkpoints or Finish Line to be scanned or scored!

New 2004 Schedule 10 Series Events...10 venues...ATV SAT/Bikes SUN!
New 50 cc Classes ATV and Bike on separate beginner friendly course!
New PIT BIKE CLASSES!

2004 Round 7 SEPT 4-5 POSTPONED and WILL NOT BE RESCHEDULED as originally planned

2004 POINTS ARE BEING REVISED AND THE LINK WILL BE DOWN UNTIL COMPLETED ASAP

2004 AWRCS AWARDS BANQUET PLANS ARE BEING MADE FOR JAN OR FEB 2005
Notices will be mailed to riders who competed in the series in 2004

Announcing...TMC Pro-Stats will sponsor Race Reports to all
riders at round 10 - enabling riders to see lap times at the track!
TMC sponsored transponders in 2003, now transponders and race reports in 2004...Thanks AWRCS Riders...You are the best!

Announing Bring a Friend Promotion-Bring a 1st time AWRCS rider with you to an AWRCS event and get a free gate pass for your next event!!!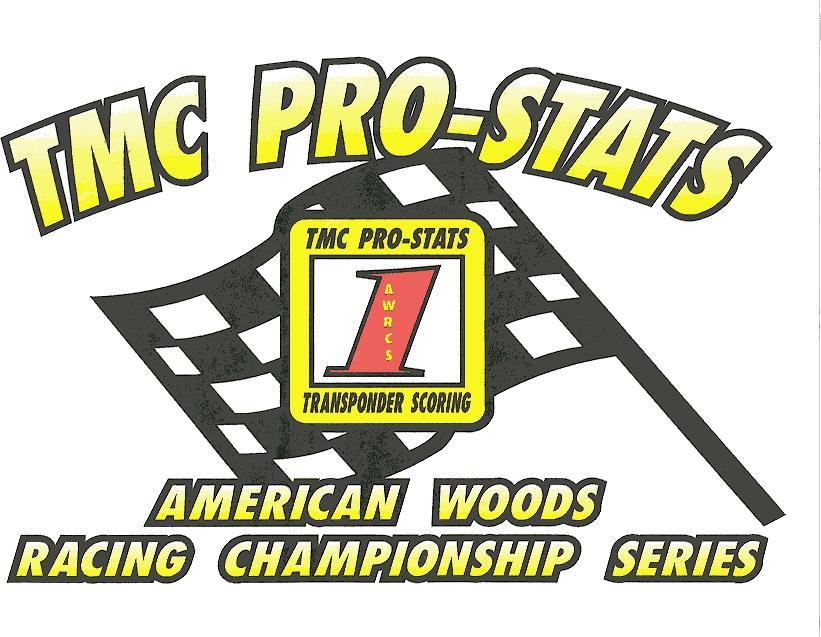 TMC Pro-Stats thanks for the day...
1. Thanks to all the Riders who attended 2004 AWRCS Round 1,2,3,4,5,6,9 and 10!
2. Thanks to the incredible and entertaining display of talent by new AWRCS Announcer - Josh Lojak!
3. Thanks to Chuck Greenlee for designing the most awesome 6 mile track at Round 10!
4. Thanks to the great AA race put on by JT Bennett, Jeff Fisher and 2nd time AA Joe Scherer!
5. Thanks to the Rabbit Ears that tuned in Nascar Saturday night at the track while we cleaned transponders!
6. Thanks to the TMC Staff...dedicated and thankless including new and exciting Dineen!
7. Thanks to my family for giving me a reason to be proud!
8. Thanks to my saviour Jesus Christ for his gift of eternal life...Praise the Lord!
9. Thanks to God for another day in Racing Paradise...Remember to give thanks for all your blessings!